Víctor Bikiny: Exclusive designs and personal charisma
"At 70, Víctor Rodríguez owes the popularity of his work to its original and exclusive nature. He designs and makes crochet bikinis, ideal for bathing."
Víctor Manuel Rodríguez Rioseco learned to crochet in an career "interest circle" while training as a Mathematics teacher. "At that time, I didn't think about retiring; I said that I would keep going to the classroom, with my cane, to give lectures."
However, at the end of the last century, fate placed the designer of today at one of the stalls in Old Havana's Plaza de la Catedral. It was there that he consolidated the art for which he is currently known, as Víctor Bikiny.
"One day I made a topecito—in Cuba, a blouse with no straps or sleeves—and I sold it; that happened on several occasions. Then they included me in a craftsman's license, granted by the Historian Eusebio Leal to the weavers association," he explains.
Without no knowledge of marketing or market research, as he himself assures, Víctor took advantage of his entrepreneurial spirit and began to build capital. "I had to do something different from the rest, and leafing through magazines once, I noticed the swimsuits."
Endowed with patience, perseverance and the eagerness of research, the academic discovered that raw cotton thread didn't work to make bathing suits, because when they came in contact with water they tended to fall down.
The discovery of another raw material: the thread with which shoelaces are made, became the cornerstone of a work that treasures several secrets. The colors white, black and brown formed his first bikini design; he overcame the challenge of transparency alongside two other weavers, on innovating in the well-known "pillar stitch" and creating the "reverse pillar stitch."
"I think my personal charisma and casual way of approaching the world have helped me a lot in this type of business and have opened many doors for me. I consider myself a successful person and with achievements beyond my aspirations."
The artist has collaborated with several modeling agencies in the Cuban capital, by providing his designs for different projects. European distribution houses have also requested the exclusivity of his clothes, in order to market them in the old continent.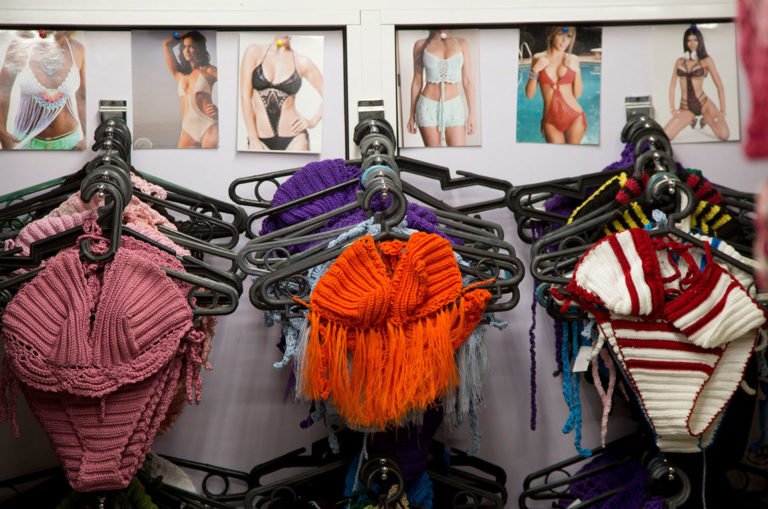 It is usually the case that, after the presentation of his new collections, they sell out very quickly. An example of are the twelve dresses he designed in the form of an angle, all acquired by a Puerto Rican businessman; and the sample of long dresses exhibited at the Fábrica de Arte Cubano, in Havana.
Víctor calculates that during peak periods, he makes monthly sales of 500 pieces. Although for health reasons he can no longer elaborate his designs himself, a responsibility he has delegated to several producers, he continues to draw, supervises each one of the processes and has an almost permanent presence at his stand in the Almacenes San José. Women continue to be his main inspiration, although he intends to venture into the production of men's clothing.


Just as Professor Rioseco never thought about retiring, neither does Víctor Bikiny. In addition to the continuity of his projects and the constant renewal of his proposals, the designer opened his second store near 23rd and 12th streets, one of the most popular areas of Vedado.
"My life moves at an extraordinary speed; I am also now writing my memoirs. I appreciate it when the client is pleased with my work because there is passion, dedication and humility behind it. I always study the trends and colors of the year. Hence, originality and exclusivity are key to my work," he concludes
Read more National Success Story